JACKSON — Behind a potent second half rushing attack of C.J. Moore and Kye Nelson, Greenville St. Joseph overcame Tri-County Academy 26-14 to claim the MAIS Class 4A State Championship on Thursday at "The Brickyard" at Jackson Academy.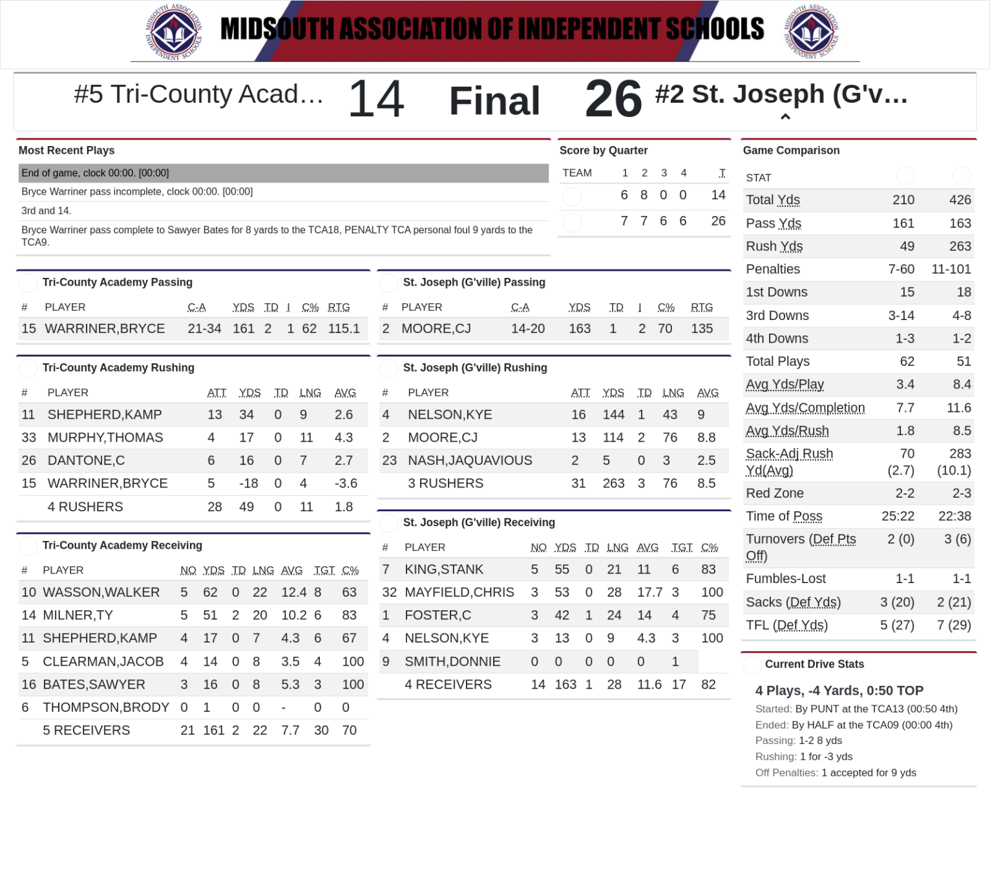 It's Greenville St. Joe's (11-1) fourth state title in school history and first state championship since 2019.
The Irish are now 4-0 in state title games.
"We said at halftime if we can get one stop, we're going to put it in our seniors' hands and that's what we did," said Greenville St. Joe coach John Baker. "We wanted this one bad obviously and for Kye and C.J., they're both seniors and this group as a whole the goal was winning a state championship. The dynasty continues."
Tri-County Academy got on the board first after an interception as Bryce Warriner connected with Ty Milner on a 13-yard touchdown pass with 2:59 left in the first quarter to give the Rebels a 6-0 lead after a failed two-point conversion.
The Irish answered on the final play of the first quarter on fourth down as Moore scrambled around in the back field and heaved a 24-yard touchdown pass in the end zone where Christian Foster was standing wide open to haul it in to give Greenville St. Joe a 7-6 lead.
Moore extended the Irish lead to 14-6 on a 76-yard touchdown run with 2:57 left in the second quarter.
Tri-County Academy answered as Warriner found Milner again from 20 yards out and a successful two-point conversion tied the game at 14-14 with 59 seconds left until halftime.
The second half was all Greenville St. Joe.
Nelson gave the Irish the lead at 20-14 on a 43-yard touchdown run with 1:56 left in the third quarter.
Nelson finished with 144 yards rushing on 16 carries with the score. Nelson missed the semifinal game last season when Tri-County beat the Irish 14-7 to reach the 4A state title game and win it.
"This was a revenge game for me cause it hurt so bad not being able to do anything, so this year we wanted this. In the second half we started running the ball well and line blocked well," Nelson said. "We're like a family on this team because we've played with each other since the sixth grade. It's just a blessing to win state because it's so hard to get here."
Moore sealed the win with 5:12 remaining in the fourth quarter on a 15-yard touchdown run to give Greenville St. Joe the 26-14 lead.
Moore finished 14-of-20 passing for 163 yards with a touchdown and two interceptions and also rushed 13 times for 114 yards with two touchdowns to lead the Irish.
Greenville St. Joe rushed for a total of 263 yards.
"I told coach at halftime we need to run the ball because it was working and we were able to get in space," Moore said. "This means a lot as a senior going out with a state championship. We've been playing together for a long time."
Warriner had 161 yards passing with two touchdowns to lead Tri-County Academy. The Rebels (12-2) only managed 49 yards rushing.
"We couldn't run the ball like we could last year and we missed or dropped some deep passes that we've normally connected on all year long," said Tri-County Academy coach Philip Wasson. "We didn't tackle well in the second half and their backs made us pay for it. We had a big senior class this year so we get back to work and get ready for next year."