With signing day tomorrow, here is the 2016 Mississippi Gridiron Most Wanted list of the top recruits in Mississippi. This is our final breakdown of this year's recruiting class and where we think everyone will sign.
Jeffery Simmons, Noxubee County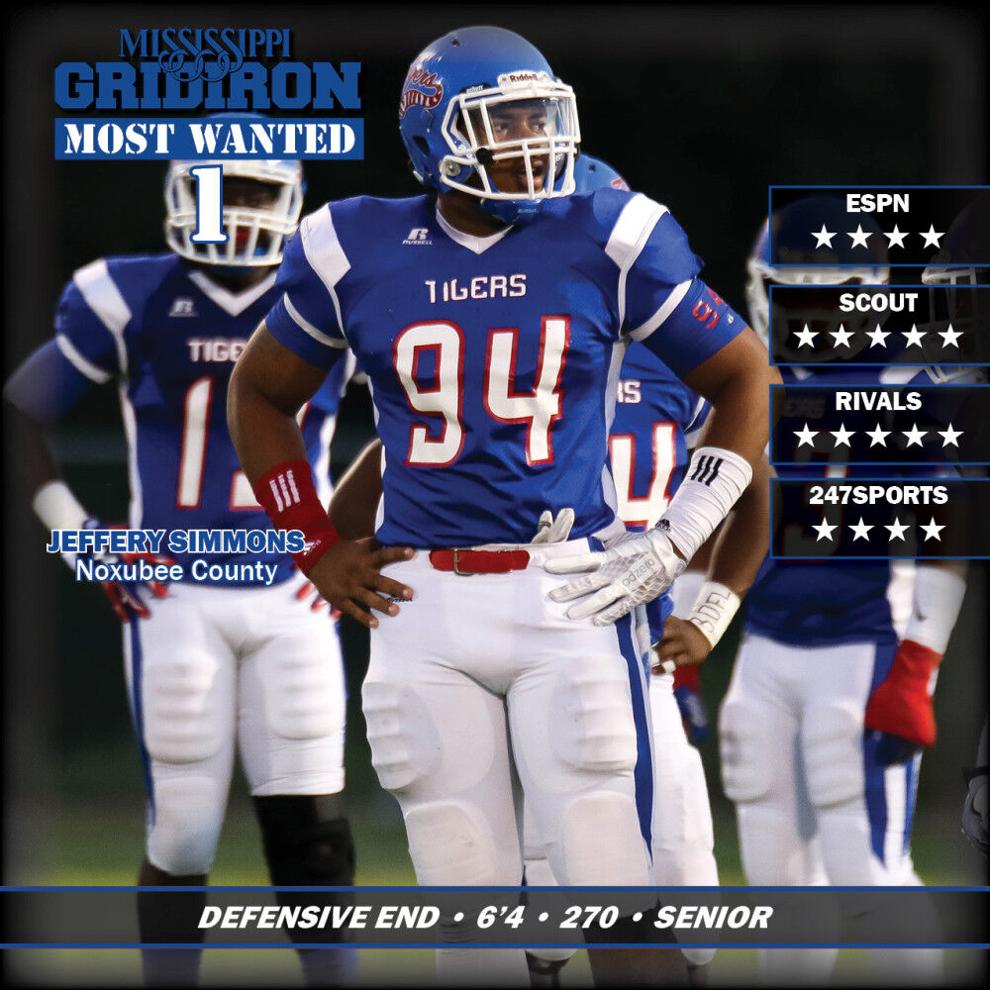 Rankings: Jeffery has steadily move up recruiting rankings, reaching a high of #10 in the nation on Scout.com. He has been wanted by most every college in the nation after leading his Noxubee County team to back-to-back titles. Jeffery piled up an unbelievable 34 sacks the last two seasons combined with 212 total tackles. He's as talented as any defensive end in the country and could play as an end or tackle.
Prediction: Ole Miss
Benito Jones, Wayne County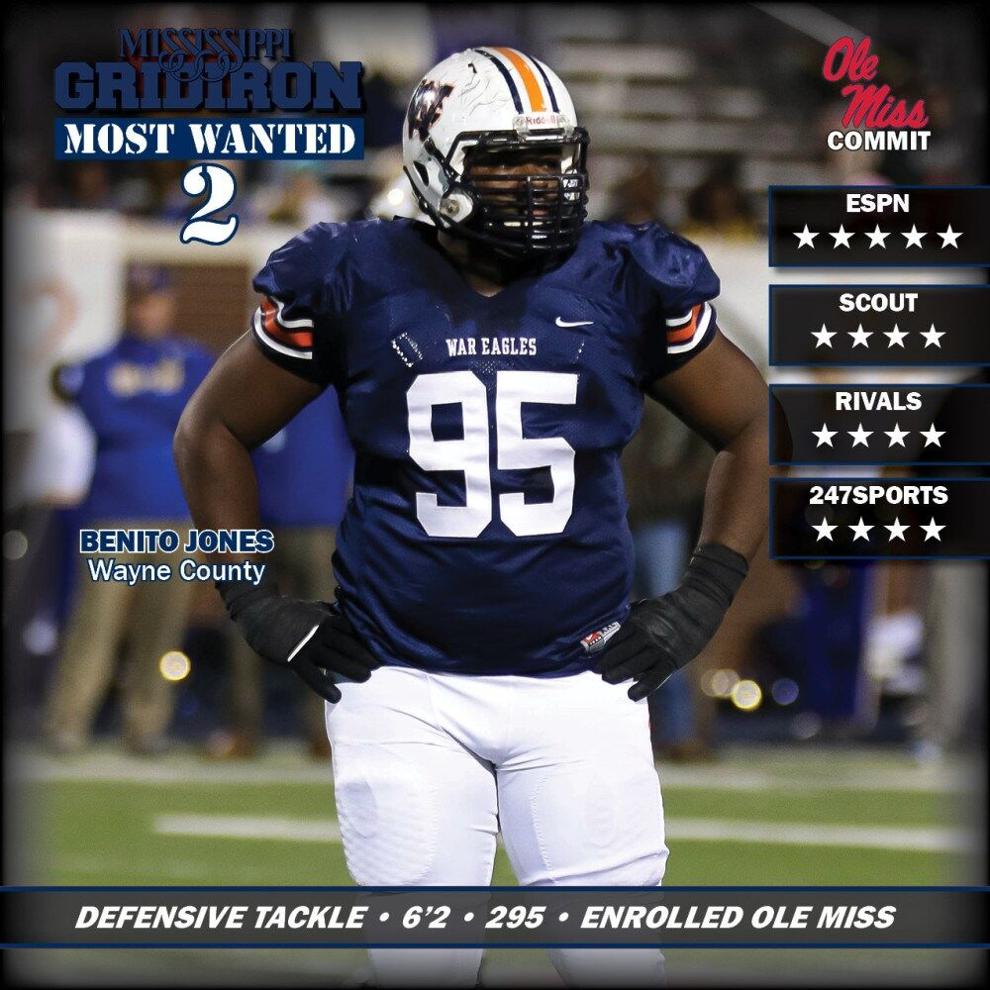 Rankings: Benito had more recruiting buzz as a sophomore but a relatively quiet recruitment with little drama contributed to him being overlooked for much of his senior season. He was unblockable all season as a senior and proved in All-Star games that he's about as good a defensive tackle as there is anywhere. He's a solid 5-star player.
Prediction: Already enrolled at Ole Miss.
A. J. Brown, Starkville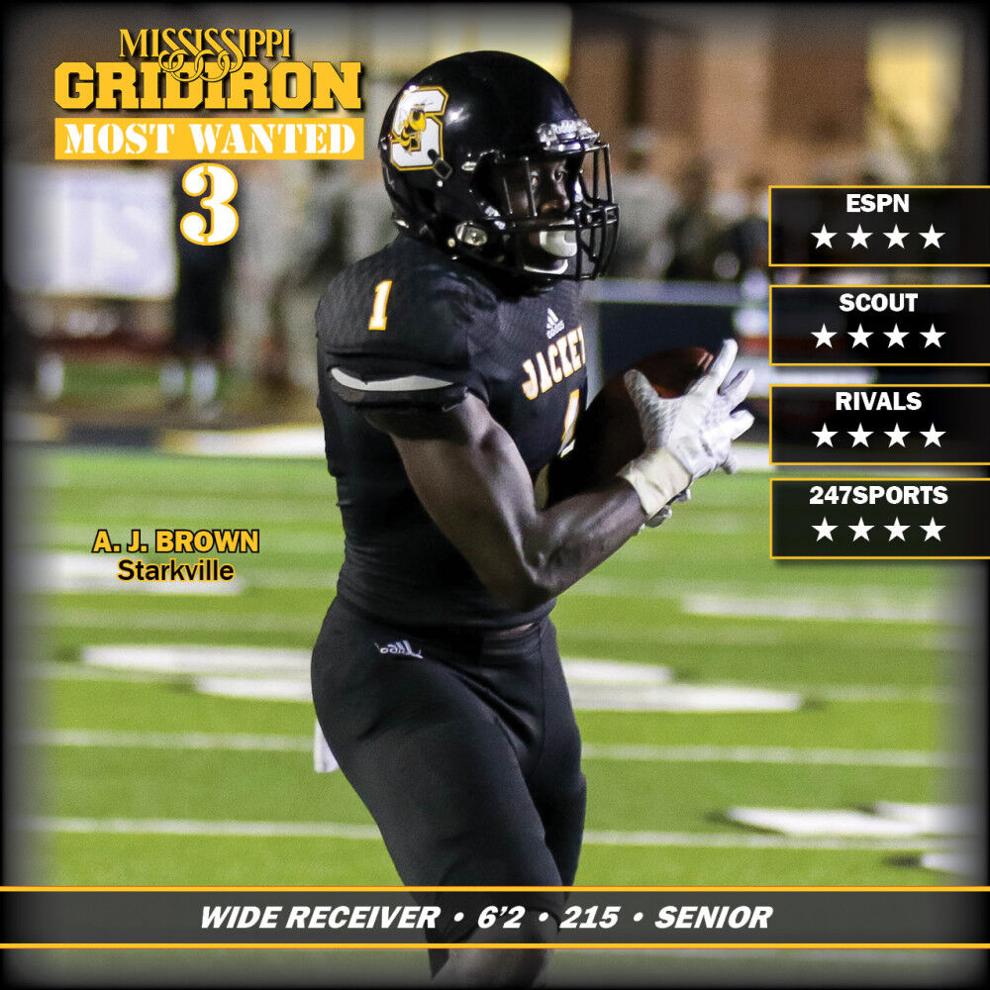 Rankings: As a junior, A. J. split catches with another talented receiver at Starkville in Raphael Leonard, which probably contributed to a lower initial recruiting ranking. But his athleticism and ability was unquestioned after great summer combines, a terrific senior season, and stellar performances in postseason all-star games against the nation's best. He exploded for 83 receptions, 1,371 yards and 13 touchdowns as a senior. He is ranked as one of the nation's top five wideouts by most of the recruiting services and is still probably ranked too low. He's a 5-star receiver talent and can compete with any high school receiver in America.
Prediction: Ole Miss
D. K. Metcalf, Oxford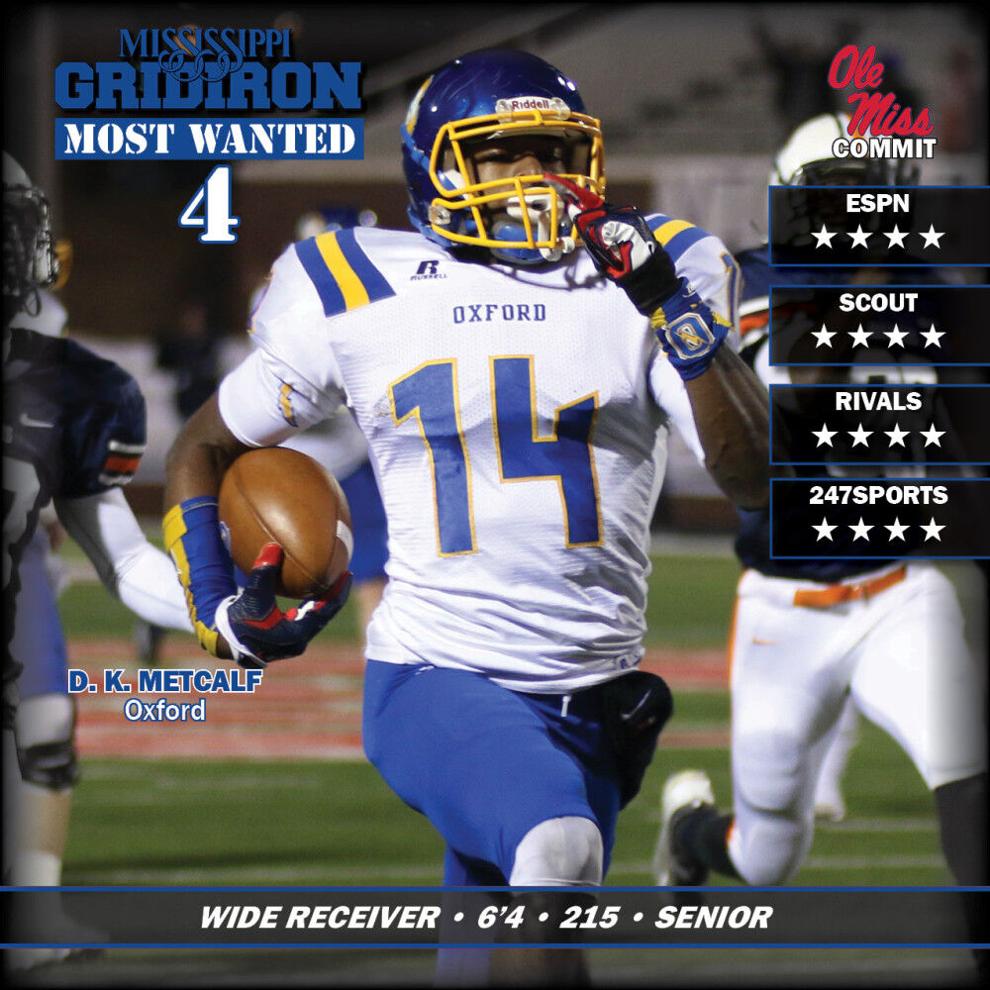 Rankings: D. K. was ranked as the top player in Mississippi by most recruiting services early in the process and at one point was the highest ranked wideout in the nation. His ranking lowered despite an off-the-charts senior season and outstanding Mississippi-Alabama All-Star game performance. D. K. finished his senior season with 93 catches for 1,455 yards and 22 touchdowns. I think his ranking was affected by A. J. Brown's well-deserved rise in the rankings, but D. K.'s talent compares well to anyone. He checked in at 6'3.5″ and 210 pounds at summer combines, running a laser 4.56 40-yard dash. He's one of the nation's best.
Prediction: Ole Miss
Octavious Cooley, Laurel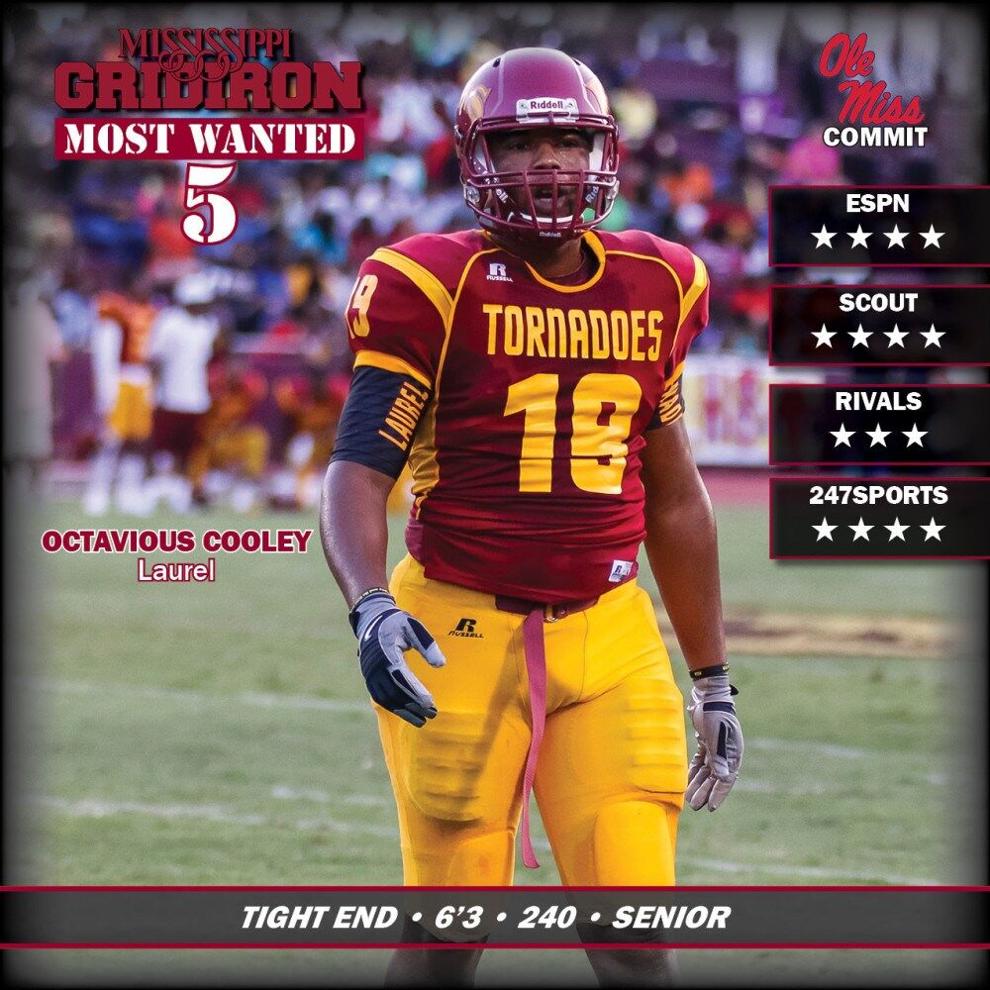 Rankings: Octavious had arguably the most productive high school career of any tight end in the country. He ended his Laurel career with 222 receptions for 4,419 yards and 44 touchdowns. He is ranked as the nation's No. 3 tight end and overall No. 39 player on Scout.com. Like the other top four players in the state, he's physically and skillfully prepared to play college football as a freshman.
Prediction: Ole Miss
Nigel Knott, Germantown
Rankings: Nigel has had a steady climb in the recruiting rankings. He had 112 tackles as a junior, but it was incredible performances in summer combines that has him ranked as the nation's No. 36 player by ESPN. He has freakish athleticism, running a laser-timed 4.3 40-yard dash at The Opening. The only reason he is No. 6 on our list is due to needing a year to prepare his body and get bigger, but athletically he can stack up with any corner anywhere.
Prediction: Alabama
Raekwon Davis, Meridian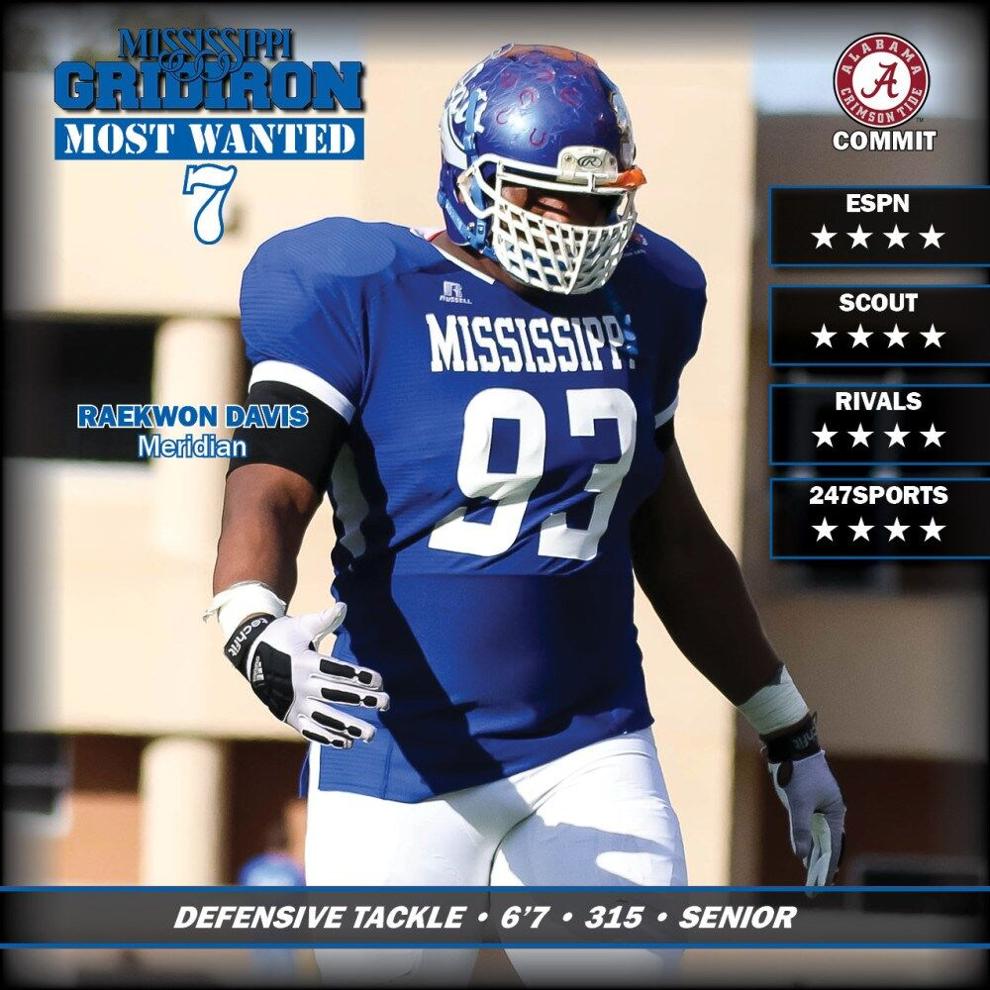 Rankings: Raekwon might be the most physically impressive recruit in Mississippi. Kids who are 6'7′ and 315 pounds should not move the way he does. His raw ability has always had him ranked high by recruiting services, but his actual play on the field improved significantly from his junior to senior season. He might need a year to develop on the college level before he is ready, but his size and athleticism is NFL quality.
Prediction: Alabama
Scott Lashley, West Point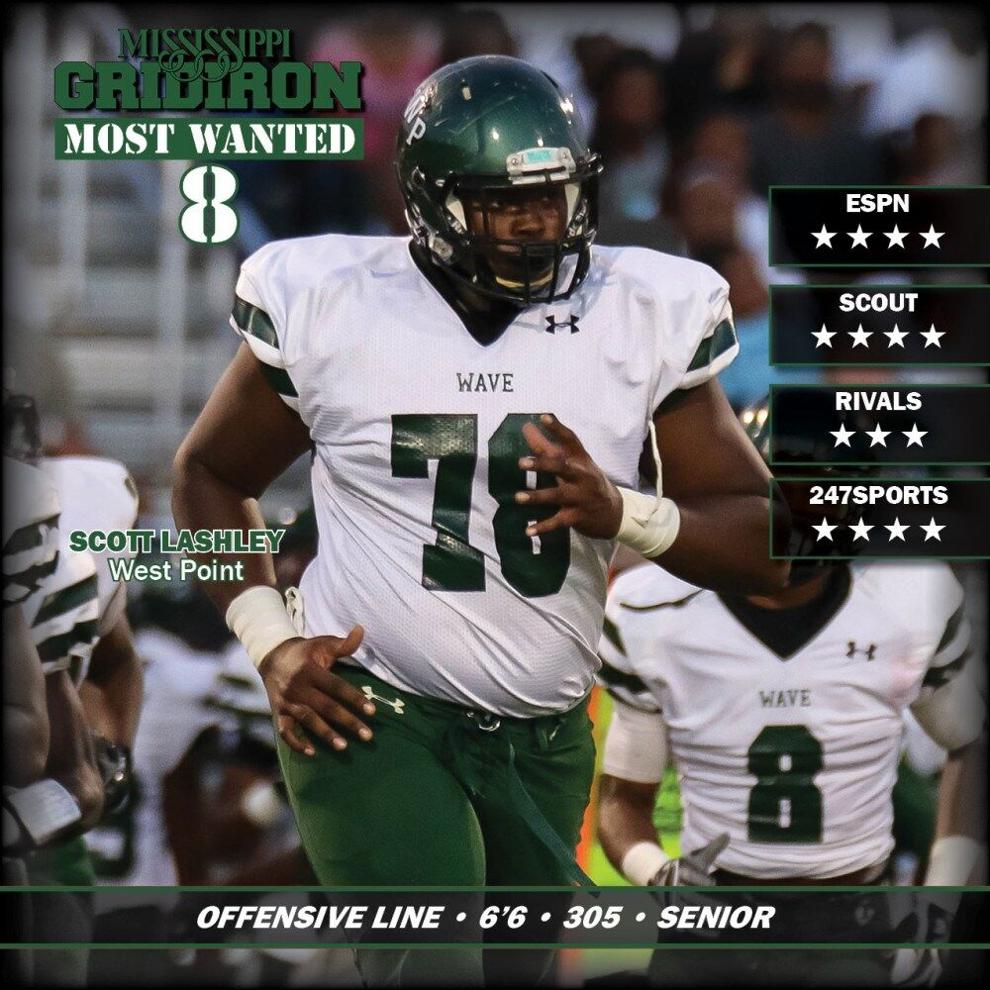 Rankings: A No. 8 ranking on our Most Wanted list for Scott Lashley is due only to his limited football experience. It is astounding for a player with only one year of starting experience in football to already reach the level Scott has. He is the nation's No. 18 offensive tackle on 247Sports. Physically, he matches up with just about any offensive line prospect in the nation. His blend of size and athleticism is rare, he just needs a year or two to learn the position in college and develop.
Prediction: Alabama
Kobe Jones, Starkville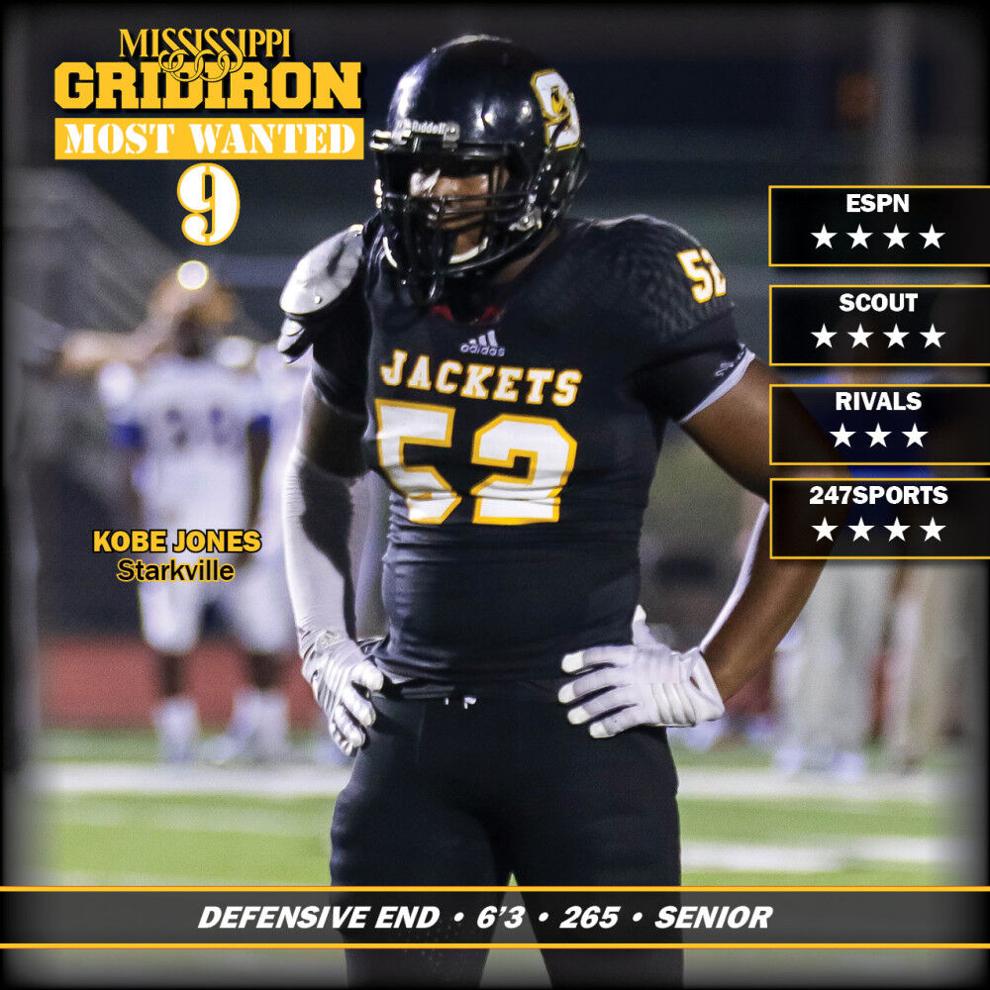 Rankings: If there is a sleeper in this class, it's Kobe Jones. Any other year, he'd be a consensus top five player in the state but the defensive line class this year is one of the best in Mississippi history. Still, he is ranked as the nation's No. 23 defensive tackle by 247Sports. He had a very good week preparing for the Mississippi-Alabama All-Star game and impressed teammates and coaches.
Prediction: MSU
Jordan Duncan, Oak Grove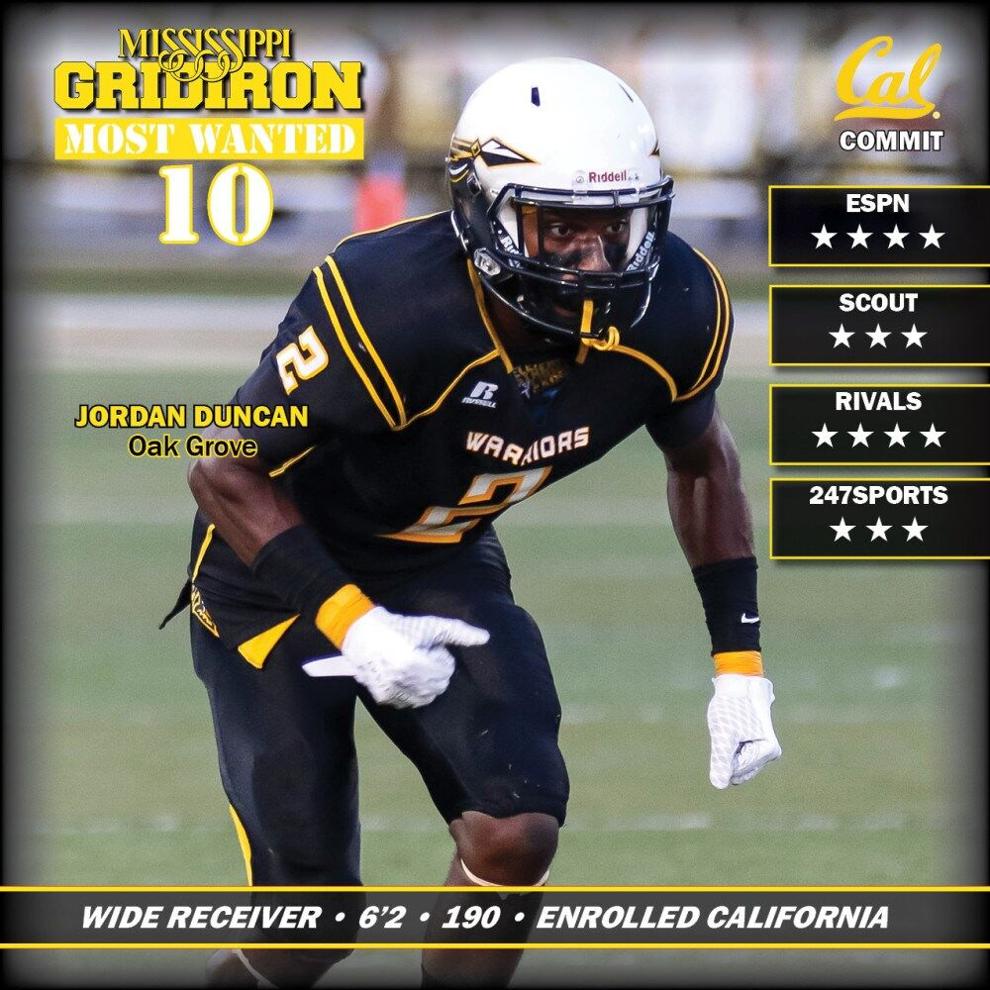 Rankings: Jordan's highest recruiting ranking is found on Rivals where he is the state's No. 8 player and the nation's No. 11 athlete. He's also ranked as the No. 201 overall player. He's been overshadowed by national receiver prospects in A. J. Brown and D. K. Metcalf, but his high school production is unquestioned. He caught 144 passes for 2,308 yards and 26 touchdowns in his final two seasons. California took a good one from the Magnolia State.
Prediction: Enrolled at California