JACKSON, Miss. - Greenville Christian junior quarterback D. J. Smith put on a show Friday night as he led the Saints to a 52-20 win over Carroll Academy in the MAIS 3A State Championship Game at Jackson Academy. 
It was the first football state championship for Greenville Christian since 1982.
"It's unbelievable, it really is. These kids have worked so hard. They have come together and played as a family and formed a bond that's something special," said Greenville Christian Head Coach Jon Reed McClendon.
"It's been a challenging year but these kids have made it easy, they really have. They came in committed from day one with a singular focus and goal and worked super hard to get to this point." 
Smith completed 16-29 passes for 271 yards and two touchdowns. He was arguably even more lethal on the ground, rushing for 183 yards and three touchdowns on just 14 carries.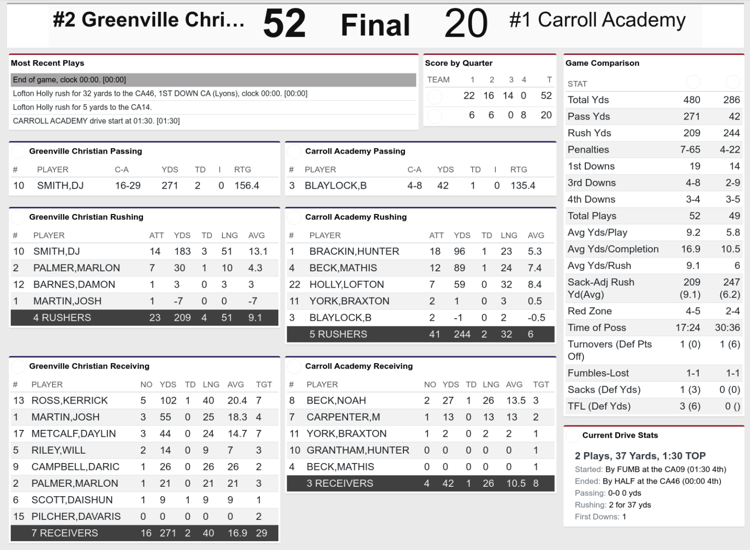 The Saints built a 30-6 lead midway through the second quarter and cruised from there. 
Kerrick Ross was the most popular target for Smith, hauling in five receptions for 102 yards and a touchdown. Josh Martin had three catches for 55 yards. Daishun Scott had a nine-yard touchdown catch. 
Saints running back Marlon Palmer had 30 yards on seven carries that included a ten-yard touchdown run.
Carroll Academy was led offensively by running back Mathis Beck who rushed for 89 yards on 12 carries with a touchdown. Hunter Brackin also rushed for a team-high 96 yards on 18 carries with a score. Lofton Holley added 59 yards on seven carries.