JACKSON, MS - Senior running back Rayf Vinson racked up 197 yards rushing Saturday as Madison-Ridgeland Academy won their second consecutive State Championship, beating Jackson Academy 41-14 at Mississippi Veterans Memorial Stadium.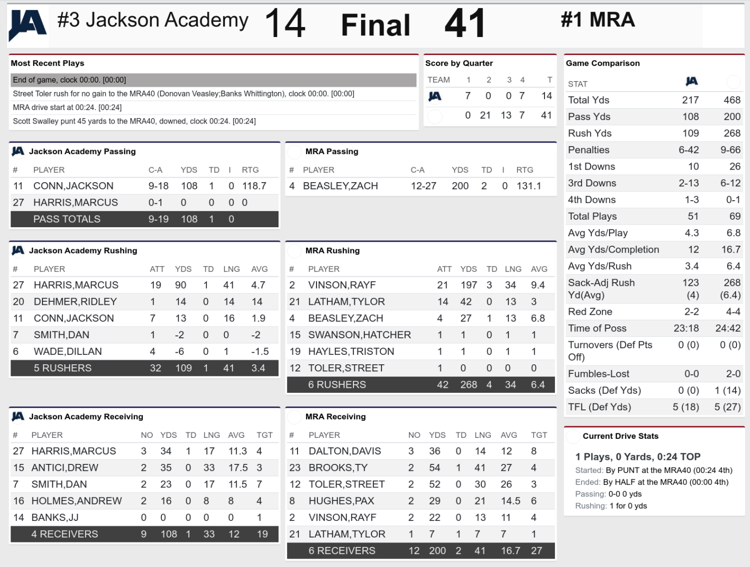 For the Patriots, the win capped off an incredible 12-0 undefeated season in which they outscored opponents 467-151 and outscored every Mississippi opponent by double digit points. 
"You want to be the best and to do that you have to do it every year," said MRA Head Coach Herbert Davis. "And for us to come back and do it back-to-back with as many players as we lost from last year, just very proud of this senior group. To be undefeated is incredible, and just the whole year in general. Honestly, it was a dream year."
The MRA offense shared the wealth all year but it was Vinson Saturday with the big day, finishing with the 197 yards on 21 carries and three touchdowns. 
Senior quarterback Zach Beasley was 12-27 for 200 yards with two touchdowns and no interceptions. Beasley finished the year with 28 touchdowns, just four interceptions, and over 2,400 yards passing. 
The MRA defense was tough all day, allowing 217 yards of offense to the Raiders. Jude Aldridge led the team with eleven tackles, Sam Polles had seven, and both Vinson and Stone Blanton had six tackles each. 
JA was led by running back Marcus Harris who rushed for 90 yards on 19 carries and a touchdown. Harris also caught three passes with another score. Jackson Conn completed 9-18 passes for 108 yards and a score. 
Donovan Veasley led all tacklers with 15 total stops that included 13 solo tackles and a tackle for loss.