JACKSON, Miss. - Riverfield Academy piled up 473 yards of offense on their way to a dominating 49-14 win over Wayne Academy Friday at Jackson Academy in the MAIS 4A State Championship Game. 
The Raiders entered the playoffs as the top seed in MAIS 4A and rattled off 12 straight wins to finish the season 12-1.
"It's unbelievable. The obstacles we've faced and everyone has faced with the Covid crisis. Different regulations every week and having to fight to keep our kids healthy. I'll tell you what, the Good Lord has really smiled on the kids at Riverfield Academy this year," said Riverfield Head Coach Kyle Stracener.
"If you could open these guys up and look at their hearts, they got a bigger heart than anyone I've ever coached."
The Raiders received huge performances from a pair of seniors in quarterback Trent Ginn and running back Hudson Brakefield.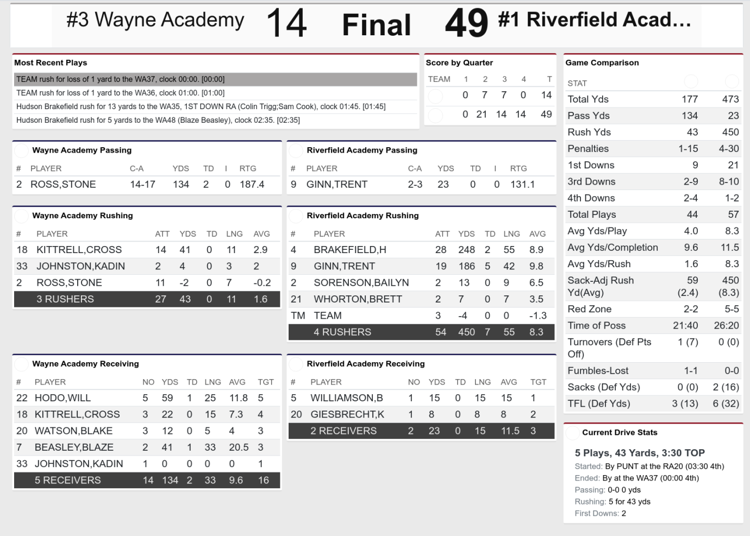 Ginn finished with five rushing touchdowns, gaining 186 yards on 19 carries. Brakefield went over the 200-yard mark with 248 yards on 28 carries including a pair of touchdowns. 
As a team, Riverfield rushed for 450 yards on 54 carries. Defensively they were led by Bailyn Sorenson and his 12 tackles including three tackles for loss. Brett Whorton added seven stops and Jackson Greer had six total tackles. 
Wayne Academy quarterback Stone Ross provided most of the Jaguar offense, completing 14-17 passes for 134 yards and two touchdowns. Will Hodo had five catches for 59 yards and a touchdown. Blaze Beasley with two receptions for 41 yards and a score.